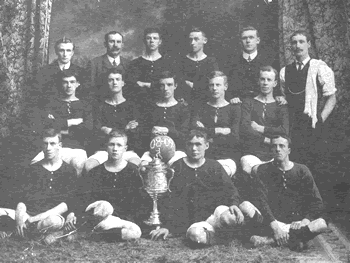 The Border Cup that had been won at the end of the club's first decade of existence was retained at the first time of asking in the second. In fact, Vale kept a firm grip on the trophy for the first three years of the 1900s, until it was regained again in 1909-10. The Dudley Cup, which was competed for by the junior and reserve sides of Borders clubs had seen Vale reach the final on two occasions. In 1908-09 the competition was played in a league format and renamed the Border Junior League, which Vale of Leithen 'A' won.
Some stalwarts of the early years included the names; Hume, Ainslie, Nisbet, Brunton, Doherty, Mirtle, McNaught, Scott, Kerr, Nimmo, Yellowlees, McLaughlin, Wilson, Thomson, Currie, Russell, Eckford, Somerville, Hardie, Crichton and Cockburn.
At this time the wooden hut dressing room at Caddon Park was for the home team only and match officials and visitors had to strip in St Ronan's Hotel and walk down Princes Street to the park. Not perhaps the ideal arrangement after a contentious fixture!
Vale of Leithen's Playing Record during the 1900s

Season

Played

Won

Lost

Drawn

Goals For

Goals Against

1900-01

22

10

8

4

65

54

1901-02

21

13

5

3

59

36

1902-03

24

15

7

2

79

48

1903-04

28

18

5

5

89

48

1904-05

30

15

9

6

103

67

1905-06

28

15

8

5

82

44

1906-07

29

21

6

2

95

39

1907-08

21

10

9

2

59

46

1908-09

25

12

7

6

66

45

1909-10

29

10

9

10

48

59